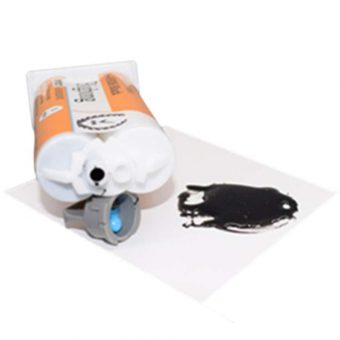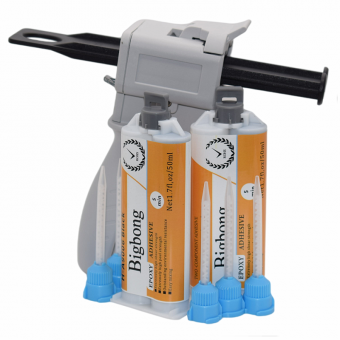 two-part epoxy adhesive. 1:1 mix ratio, 5 minute work life and handling strength in approximately a 24 hr cure time.
Toughened for impact and vibration resistance.
Moderate work-life provides ample time for positioning and adjustment for fit Adhesive meters and mixes as it dispenses, for maximum work-life Medium viscosity,self-leveling formula provides easy, precise dispensing Effective adhesive for joining,gluing,adhering,attaching,repairing,potting,panel bonding,adhering,and structural bonding,metal,Glass,plastics,cardboard,wood.
Fast drying,easy to use with applicator nozzles manually without nozzles.
Epoxy adhesive two-component adhesive.
Extremely high shear strength.
Extremely high peel strength.
Outstanding environmental resistance.
Curing time: approx. 5 minutes
Full curing time: approx. 24 hours
Temperature resistance: -40℃ to 80℃
1pc 50ml 1:1 Two Component AB Glue Dispensing Gun Caulking Cartridge Dispenser
50ml 1:1 Glue Gun Is The Standard 'Square Type-Back' Type,It is used in 50ml 1:1 'Square Type-Back' Type glues.
Ergonomic, Simple And Convenient Operation.
Workable For Various Materials, Not Only Epoxy Resin.
Standard Blender Connection Without Leaking.
Separate Passage Avoiding Hardening Of Two Preparations.
Features A Modern And Ergonomic Design, Tools That Are Small And Easy To Work With.
5pc 1:1 Static Mixing Nozzles Mixed Tube
Inner diameter: approx 3.2mm
Outside diameter: approx 4.8mm
1pc 50ml 1:1 Glue Gun Manual Caulking Gun Dispenser
2pcs
50ml 1:1 Two-Component Epoxy Adhesive
5pc
1:1 Static Mixing Nozzles Mixed Tube