10:1 AB Glues White Strong Adhesive 75ml Glue Adhesive and 10:1 Caulking Gun 75ml AB Glue Gun with 5pc 10:1 Static Mixing Nozzle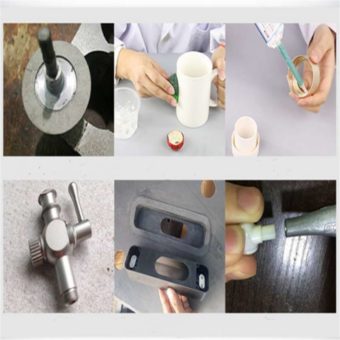 1pc Manual Caulking Gun 75ml 10:1 AB Glue Gun
Features:
Ergonomic, Simple And Convenient Operation.
Competitive, Economical.
Workable For Various Materials, Not Only Epoxy Resin.
Standard Blender Connection Without Leaking.
Separate Passage Avoiding Hardening Of Two Preparations.
Features A Modern And Ergonomic Design, Tools That Are Small And Easy To Work With.
Introduction:
Universal 75ml 10:1 AB Glue Gun Manual Operation Is Simple, Convenient And Durable, You Can Freely Control The Glue That Can Save Material And Improve Production Efficiency. Designed To Smear Or Drip Variety Of Two-Component Adhesives Or Paints, Two-Component Adhesive Can Solve The Problem Of Uneven Product Mix.
Operation Instructions:
1. Open The Top Of The Applicator, And Then Pull The Rack To Maximum.
2. After Fixing The Mixing Tips On Cartridge, Put The Material Cartridge Into Impression, And Lock It By The Dispenser.
3. Promote The Wrench To Make The Impression Material Come Out Smoothly From The Mixing Tip.
4. Put The Rack Back To Original Location.
5. Remove The Cartridge, Repeat The Above Operation.
Applications:
Widely Used Two-Liquid Mixing Materials, For Example: Ring Gas Resin, Silica Gel Component Glue.
1pc 75ml Glue Adhesive 10:1 Two-Component Strong Adhesives White AB Glues
Features:
1,Acrylic AB glue,stone seamless splicing adhensive.
2,It is applied to artificial marble and quartz stone seamless splicing.
3,High hardness after curing,yellowing resistance,impact resistance,hot-wet resistance,waterproof,mildew proof,corrosion resistance,Aging resistance.
Specifications:
Color: White
Capacity: 75ml
Mixing ratio: A:B=10:1
Curing time is approx.20-25 minutes,it can be grinded after 25 minutes.
Full curing time: approx.24 hours
It is suitable for seamless splicing of quartzite,granite,ceramics,glass,wood,stone,acrylic,metal marble tile glue etc.
Operation description:
1,Unscrewing the cap clockwise at 90 degrees.
2,extrude glue by glue gun.
3,aligning construction position with mixed mouth.
4,glueing.
5pcs 10:1 AB Mixed Tube Glue Gun Dispenser Dual Cartridge Static Mixer Mixing Nozzle
Description:
Mixing ratio: AB,10:1
Material: Plastic
Length: approx.110mm
Discharge caliber: 1.5mm
Inner diameter: approx 5.4mm
Outside diameter: approx 7.5mm
Package included:
1pc Manual Caulking Gun 75ml 10:1 AB Glue Gun
1pc 75ml Glue Adhesive 10:1 Two-Component Strong Adhesives White AB Glues
5pc 10:1 Static Mixing Nozzles Glues Mixed Tube Set