Auto Glue Dispenser AC 110v Automatic Solder Paste Liquid Adhesive Controller Dropper Machine
About this item
Model 982 glue dispenser machine using 0.18CV constant flow solenoid control valve,with indicator switch,adjustable air suction device up to 15 inches / mercury (Hg). Service life could be more than 12 years.

Precise control of dispensing drops and dispensing cycle, two Controlling Modes: manual mode & semi-automatic mode. Materials could be dispensed continuously until operator release the foot pedal when it is in the manual mode.

The humanized function, simpler operation, easier coating, lineation and drop, highlight high-quality products,improve production efficiency.

The professional precise glue dispenser be used the latest digital control system,digital display, assure timing output consistently.It need to be connected to air compressor (1.5HP or above)

Automatic glue dispenser widely used on electronics, aviation, optics, chemistry, automobile, medical treatment, petroleum, packaging, jewelry and machinery industry.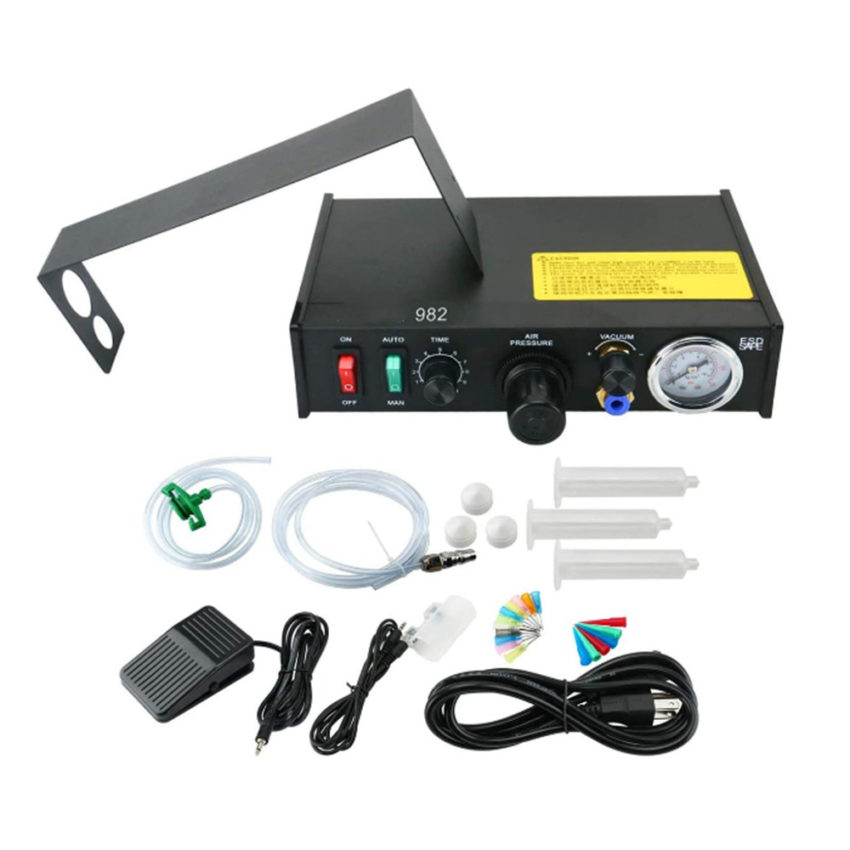 Feature:
Foot pedal controlled.
Free to set 16 kinds of ways.
Suck-back feature ensure no dripping.
Specification:
Power : AC 110V ± 10% / 50Hz
Power consumption : <8W
Air source : Maximum 0.99MPa ( clean dry air without lubrication )
Pressure adjustment range : 0.05MPa-0.99MPa
Time adjustment range : 0.01S–30S, the time available to a variety of modes
Function Mode : Manual mode / automatic mode
Vacuum features : adjustable negative pressure control to 600 mm Hg
Repeatability and spit Frequency: Accuracy : ± 0.05% Frequency: 600 beats / min
Minimum discharge rate : 0.01ml
How to use:
1. Power input socket, power Switch: putdown light on shows "On", light off shows "Off"
2. Dispensing time : Scale knob switch adjustment
3. Input air pressure pressure governor: First pull out, Reversal is lower pressure,veering is the higher pressure
4. Barometer: display range: 0-100pSi
5. Vacuum control unit: Reversal is Vacuum pumpback high, veering is the Vacuum pumpback low
6. Testing button: During testing, it can replace the foot switch
7. Dispensing time : Scale knob switch adjustment display range 0.01S–30S, the time available to a variety of modes
8. Dispensing output interface: Connect to dispensing needle cylinder.
9. Air pressure input interface: Connect to clean high pressure source
10. Dispensing way: 16 kinds of free way
11. The foot controller interface: Connect to foot switch
12. Fuse holder
Package Included:
1 x Solder Paste Liquid Controller Dropper
1 x Dispenser Stand
1 x Hand Switch
1 x Foot Switch
1 x Power Cable
1 x Air Tube to Barrel
3 x 30cc Liquid Barrels
1 x Air Tube to Air Supply
1 x Steel & Plastic Tip Needles Set