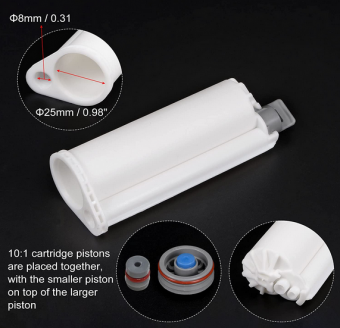 Features:
1. Made of hard plastic, high strength, wear-resistant and durable. Can be reused after cleaning.
2. The glue cartridge is small in size and light in weight. The cartridge connector can be used for different specifications of rubber hose heads. The threaded port design can prevent it from falling off during use.
3. The glue cartridge needs to be used with an epoxy mixing tube and an AB glue gun. Dual glue can be mixed, and the dispensing process can be carried out, and the operation is flexible and convenient.
4. It can be used in industrial production and home life where glue is required. Bonding a range of substrates, such as wood, fiberglass, metals, brick, concrete, glass, tile, stone and more.
Specifications:
Material: PP
Color: White, Gray
Mixing Ratios: 10:1
Volume: 50ml
Package Content:
1 x Epoxy Gun Adhesive Cartridge